Core Infrastructure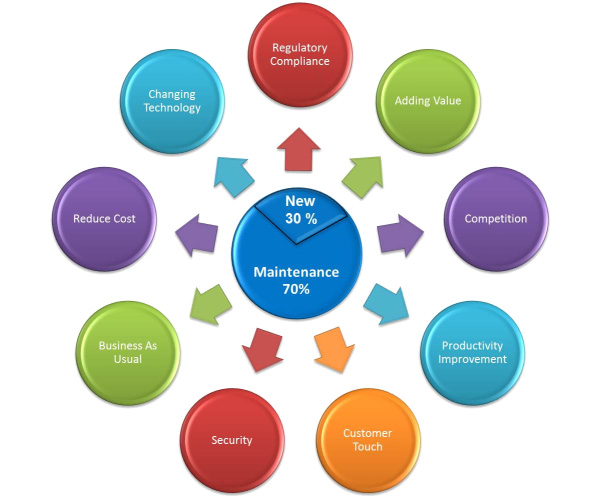 According to Sentry Research, a typical organization commits approximately 70% of its IT resources to maintain its existing infrastructure, leaving a meagre 30% for new initiatives. If you're like most companies, you have invested similarly in your IT platform. As a result, you need a way to transform your IT environment to align more closely with business goals - from desktop deployments to management and security - while maintaining a cost-effective and stable adaptive infrastructure.
At SSL, we understand challenges like this which face CIOs. With growing competition, increased pressure to provide ever-improving customer service, cost pressures and the utilization of other technology solutions demanded by organic growth or through mergers and acquisitions, it can become challenging to decide where to focus as well as what to keep and what to discard. SSL can help you find your way and achieve your objectives. We are pragmatic consultants who bring an implementation perspective to all our work. We realize that elegant solutions are meaningless unless they can be translated into sustainable business value.
Having served the IT organizations of large and medium Nigerian businesses over the past sixteen years, we understand and appreciate the business and technological challenges faced by African companies. To bring the "best of breed" solutions to the Nigerian market, we have not only chosen our business partners carefully, but have also selected our solution portfolio with an eye to providing real world solutions for our customers.
Our solution offerings fall under two major areas – Core Infrastructure Solutions and Enterprise Business Solutions:
Core Infrastructure solutions include many partners, solutions and technologies to ensure our customers the best outcome for their particular situation. We believe that to address contemporary IT challenges, we cannot merely provide the run-of-the-mill solutions. Our network experts look holistically at your network and address the underlying structure and complexity. Our engineers walk you through the challenges that you may face and help you prioritize your plans in a structured and systematic manner. They help you create an integrated and uniform environment and adopt IT solutions that support proven best practices. This helps you with:
options that could reduce the total cost of ownership thus helping your existing infrastructure deliver more.
separating your short term and long term goals and consolidating technologies.
linking silo applications through your existing investments to give powerful enterprise-wide solutions which reduce overall costs.
visualizing both tangible and intangible benefits.
Some of the Core Infrastructure Solutions that we offer include Server, Desktop and Application Virtualization, Security Solutions like Antivirus and Encryption, Performance Improvement Solutions, Network Access Monitoring Tools, Collaboration Tools, Traffic Management, Device Management, Fault Management, Storage Management and Performance Management. We are well positioned to ensure that your network is up and running at all critical times.