SSL Managed Service Offering
SSL Managed Service Offering
Soft Solutions Limited (SSL) is the trusted market leader of information security services that delivers enterprise-class protection and compliance for businesses of any size.
Through our cost-effective security-as-a-software (SaaS) platform, SSL offers the most comprehensive compliance, security and messaging services that include but aren't limited to: Firewall management and monitoring, Vulnerability scanning, Intrusion detection and prevention, Hosted email, Encrypted email, and Email archiving.
As companies struggle with increasing cost, complexity and stringent compliance requirements associated with their information intensive businesses, SSL is the only IT solutions provider that can simultaneously reduce the cost, manage all of the complexity and meet all of the compliance requirements from a single platform.
SSL's On-Demand services are offered on two platforms. We offer both on Network (in-the-cloud) and CPE (customer-premise equipment) basis.
Our partnership with Datacenter providers gives us 3(three) geographically distributed technical operation centres and 4 (four) redundant data centres.
Business Firewall Service
If your organization has a dedicated Internet connection, then your network is subjected to intrusion attempts on a daily basis.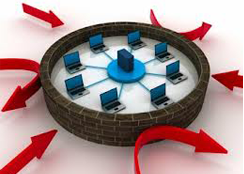 Effectively combating these threats can be both expensive and challenging. By utilizing SSL's Business Firewall service and over 15 security engineers, we can help secure your network while reducing manpower and costs necessary to do so.
SSL will monitor your firewall twenty four hours a day, seven days a week (24/7) from our Security Operations Centre. Our Security Analysts are immediately notified of any security or connectivity issues, and they will take appropriate action, including configuration changes, network troubleshooting and customer notification.
For more information, call SSL today!
234-1-7612051
info@ss-limited.com OR marketing@ss-limited.com
Why Soft Solutions Limited?
Soft Solutions Limited (SSL) founded in 1994, has emerged as one of the leading IT solutions and consulting companies in Nigeria. SSL helps customers address enterprise challenges by providing comprehensive solutions that combines innovative models and technologies with passion to solve business problems.
We deliver technology solutions that are cost effective, easy to use and adaptive to enable next level growth. Our solutions provide the platform for an agile ICT environment that drives an organization towards set objectives. They instantly transform any organization and deliver visible return on Investment.
At SSL, we are pragmatic consultants who bring an implementation perspective to all our work. We realize that elegant solutions are meaningless unless they can be translated into sustainable business value. Call SSL today!