Endpoint Encryption
Prevent Data Loss Using Encryption
Data protection is now ranked as the number-one priority for most CIOs and CTOs in business world.
McAfee Endpoint Encryption delivers powerful encryption integrated with centralized management that helps prevent unauthorized access and loss or theft of sensitive data. McAfee offers multiple layers of encryption solutions for your folders, removable media, encrypted USB devices, desktops, laptops, tablet PCs, Smartphones and PDAs.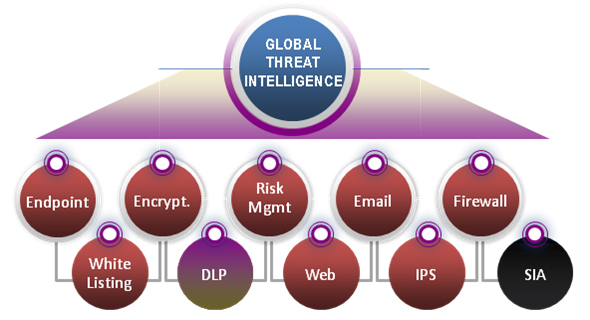 Protect your assets and your brand
Loss of confidential data, including customer data, employee records, intellectual property, and business documents has become a pervasive problem for companies worldwide. According to a 2007 survey, 85 percent of respondents said their businesses had experienced a data security breach valued at $6.3 million.
Attain maximum data security with full-disk encryption
The protection of data assets is a key issue facing your organization. Protect your company's mission-critical data with McAfee Endpoint Encryption. The solution uses strong access control with preboot authentication and government-certified algorithms to encrypt data on endpoint devices, including desktops, laptops, tablet PCs, Smartphones, and PDAs. Encryption and decryption are transparent to the user and performed "on-the-fly," with virtually no performance degradation. McAfee Endpoint Encryption seamlessly integrates with existing enterprise systems and provides operational efficiency that ensures low total cost of ownership.
Protect files and folders wherever they go
Control what files or folders are encrypted. McAfee Endpoint Encryption allows administrators to specify that the contents of certain folders, files created by particular applications, or files of a certain type be encrypted. Groups of users are granted access rights to particular files and folders, and securely share files across the network.
No matter where files are saved and transferred, data remains encrypted using Persistent Encryption Technology. If an unauthorized user tries to save a file that is viewable on a company laptop to an unapproved storage device, that user will walk away with an encrypted and unreadable file.
Achieve compliance and lower Total Cost of Ownership
Prevent loss of data wherever your data goes and achieve regulatory compliance with a full range of security and encryption solutions all managed from one central console. McAfee Endpoint Encryption provides central management capabilities including administration, central deployment, remote upgrades, auditing, mandatory security policy management, a scripting tool, hot revocation, recovery, synchronization, and more.
Strong encryption and access control
Prevent unauthorized access with full-disk encryption. Validate both user and machine prior to the PC starting using two-factor preboot authentication in addition to password authentication. Achieve unsurpassed protection
Meet internal and external security requirements
Demonstrate a 360-degree audit trail, providing you with Safe Harbor protection so that a lost laptop or USB device presents no breach and requires no disclosure. Set and enforce extensive mandatory security policies. Control what specific file types or folders are encrypted without requiring end-user action. Leverage FIPS 140-2 and Common Criteria EAL4 certification
Easy centralized management and lower TCO
Easy centralized management and lower TCO prevent loss of data everywhere with a full range of security and encryption solutions all managed from one central console. Prove compliance with data privacy legislation and protect your assets and brand, retain. Customer loyalty and gain a competitive advantage. Easily deploy and administer policies across the enterprise, saving time and money.
Endpoint Encryption solutions enable data protection anytime, anywhere while keeping employees productive with transparent encryption and making IT job easy and efficient with integrated, centralized management.
Key Advantages
Strong encryption and access control
Protect against unauthorized access and data exposure, with powerful device encryption and strong preboot authentication
Transparently encrypt data "on-the-fly," with no end-user interaction or training required
Ensure files and folders remain encrypted wherever they are saved or transferred
Internal and external security compliance
Enforce mandatory company-wide security policies
Demonstrate compliance with data privacy legislation
Control which applications users may access
Easy centralized management and lower Total Cost of Ownership
Gain extensive centralized management capabilities
Enjoy single sign-on and support for popular smart cards and tokens
Take advantage of support for all common languages, keyboards, and Windows operating systems
SSL partners with McAfee in Nigeria to bring the McAfee Suite of product that specializes in security across the enterprise. SSL is well positioned to provide companies with software applications that run on their IT infrastructure as well as the tools that help to manage that infrastructure. Supporting these product offerings are our various services that scale from basic support services to complete outsourcing services. SSL has partnered with leading Networking & Security Solution providers to bring the best of the breed solutions to Nigeria over the last decade.
For more information, contact info@ss-limited.com or request for a demo.