Data Loss Prevention
Data Loss is one of the biggest fears that organizations face today. Quite a few organizations have been in the news for confidential information breach; some have lost a lot of money in the process. McAfee Data Loss Prevention delivers unrivaled protection against theft and accidental disclosure of confidential data.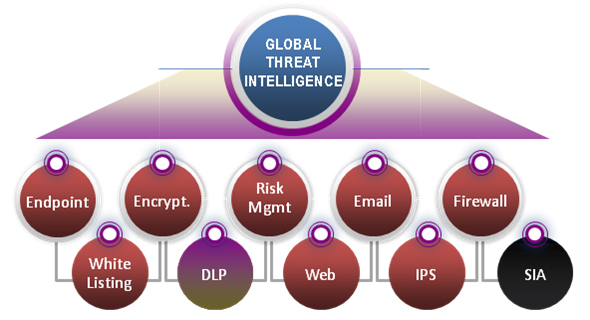 McAfee's completeness of vision and ability to execute
Leading analyst firm Gartner, Inc. has placed McAfee DLP 9 in the leaders' quadrant in its "Magic Quadrant for Content-Aware Data Loss Prevention" as published on 02 June 2010.
According to Gartner, vendors who appear in the leaders quadrant "have demonstrated good understanding of client needs and offer comprehensive capabilities in all three functional areas—network, discovery and endpoint—directly or through well–established partnerships and tight integration."
McAfee Data Loss Prevention (DLP) guards both regulated and sensitive privacy data, including hard-to-control financial data, source code, formulas, and designs. With McAfee DLP, you can identify and control critical data more easily and completely through our advanced data analytics technology, safeguard your enterprise from accidental and malicious data loss, and prove compliance and perform investigations with less effort, while saving time and money with centralized deployment, management, and reporting.
This protection works across networks, through applications, and through removable storage devices.
Data transfer methodology — Host Data Loss Prevention controls how you transfer data over the network, use it in applications, and copy it to removable storage devices.
Data protection regardless of format — Protect data in any format, even if it's modified, copied, pasted, compressed, or encrypted.
Controlling data sent to removable storage — Prevent data from being written to USB drives, iPods, and other removable storage devices, and stop data loss from endpoints by monitoring and preventing risky user behavior.
Streamlined data encryption — When you combine Host Data Loss Prevention with Endpoint Encryption, the data encryption is content-aware which makes the encryption process more efficient.
Centralized management console — Managing Host Data Loss Prevention allows you to define and manage data protection policies, deploy and update agents, monitor real-time events, and generate reports to meet compliance requirements, all from the centralized McAfee ePolicy Orchestrator (ePO) management console.
Features and Benefits
Protect your enterprise from the risks of data loss
Help protect your business against the financial loss, brand damage, and noncompliance penalties that come with accidental disclosure or data theft by insiders and hackers.
Safeguard all layers of your infrastructure
Ensure that your confidential information is protected throughout your network — on servers, in databases, and across endpoints.
Prove compliance with less effort
Generate detailed reports that show auditors, board members, and other stakeholders full compliance with internal and regulatory privacy requirements.
Control data transfer
Monitor and control the transfer of sensitive information to removable storage devices, via email and instant messaging (IM), and through other communication channels — even when data is disguised.
Simplify security management
Streamline management of your entire security risk management portfolio, including McAfee Host Data Loss Prevention, via the centralized McAfee ePolicy Orchestrator (ePO) 4.5 console.
Take data inventory
Scan endpoints and discover what data resides on them. Use this information to mitigate risk, build an understanding of how your data is used, or simply compile and inventory data for use in cases such as legal discovery.
Soft Solutions Limited (SSL) partners with McAfee in Nigeria to bring the McAfee Suite of product that specializes in security across the enterprise. SSL is well positioned to provide companies with software applications that run on their IT infrastructure as well as the tools that help to manage that infrastructure. Supporting these product offerings are our various services that scale from basic support services to complete outsourcing services. Our solutions are organized in the following groups:
Process Improvement Solutions
Security Infrastructure
Network Performance Solutions
Services Management Solutions
Soft Solutions has partnered with leading Networking & Security Solution providers to bring the best of the breed solutions to Nigeria over the last decade.
For more information, contact marketing@ss-limited.com or send a request.